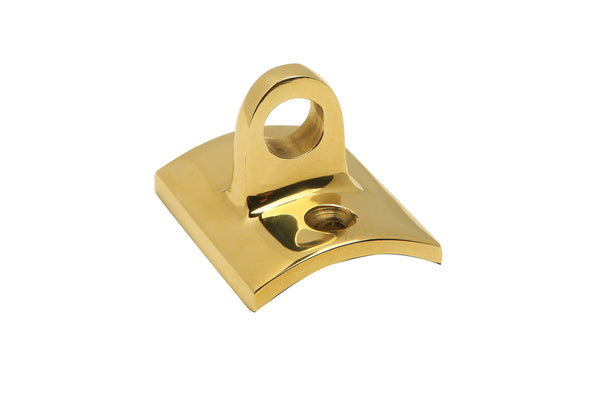 Stanchion Rope Curved Wall Plate Small Loop, One Rope Capacity, QueueSolutions WPCS-PC
Curved small loop wall plates attach to round surfaces with 2 screws and have the ability to connect one rope snap ends. The smaller footprint allows for an aesthetic attachment point that creates less snagging for passers-by. NEW Specialty Finishes now in stock at standard pricing
Curved wall loops allow you to attach a rope to a curved surface.
New Stock Specialty Finishes: Statuary Bronze, English Antique, Pewter Nickel, Antique Copper
Custom powder coat colors available in any option
ProStanchions Is Your Full-Service QueueSolutions Crowd Control Products Distributor
We Ship Queue Line Retractable Belt Stanchion Posts, OEM Parts, & Accessories, All Across North America
We Also Offer Special Pricing On Bulk Orders - Call 1.646.481.4402, e-mail, or Contact Us For More Information

The Fastest Crowd Control & Safety Barrier Shipping Anywhere
As part of your supply chain Pro Stanchions and the manufacturers we work with the understanding that you expect the equipment you order to be delivered in top condition, as soon as possible and cost-effectively.  Our relationship with FedEx and national LTL Freight carriers ensures your delivery expectations will be met and exceeded.
Most Queue Solutions and Visiontron Prime orders placed by approximately 12 pm EST will ship the same day the order is placed.  If your order is placed later than that, most products will ship the next day.  All other orders, excluding custom orders, will ship in 2-5 days and will be delivered within approximately 1-5 days, depending on shipment destination.  Feel free to contact us to determine exact ship date of any equipment.
All shipments will originate in Long Island, New York.
Call Pro Stanchions when you are ready to order to save even more on shipping.
All International Taxes and Fees are the responsibility of Pro Stanchions' customers.